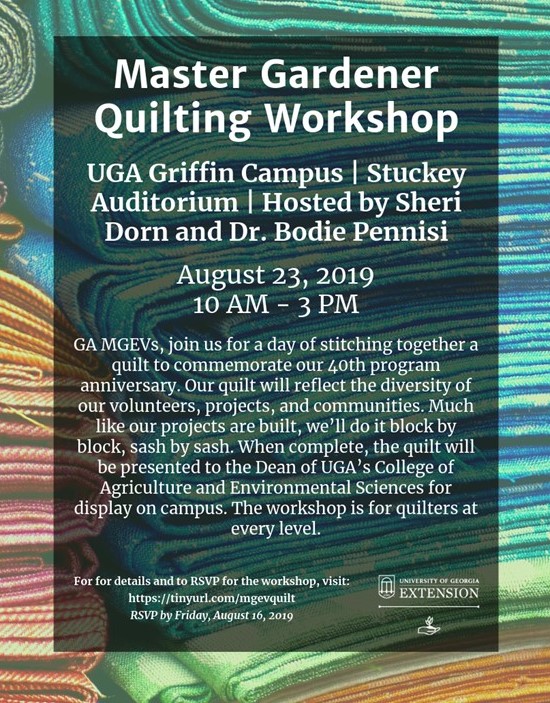 You may recall that we are working on a special project to commemorate 40 years of MGEVs in Georgia. We are planning to assemble a quilt that symbolizes the uniqueness and strengths of volunteers, the beauty of the plants that we all love, and the projects which you all tirelessly support.
Dr. Pennisi and I invite those interested in working on the project to join us in Griffin this summer for a fun day of stitching and "sewcializing"! It does not matter if you have been putting together blue ribbon quilts for years or if you are brand-new to the art. We welcome all of you with an interest in this project.
We have reserved Stuckey Auditorium here on the Griffin campus. It has plenty of space for all of our creativity. We'll get started at 10 am and wrap up by 3 pm. There's no charge for the workshop, and we'll figure out lunch based on your reply.
If you are planning to come, please let us know by filling out this registration form.  We shared details about the quilt in a previous post. I'll send those details to you again when I confirm your workshop participation.
Even if you are unable to participate in the workshop, we welcome your contributions to the project. Simply send your quilt squares to us here at the State Program Office, 1109 Experiment St, Griffin, GA 30223. Include your name and county, and even a little story about your square.
Through this project, I am enjoying getting to know some of you with whom I had not previously connected. Looking forward to spending the day with you in August!
Read more https://site.extension.uga.edu/mgevp/2019/04/summer-workshop-for-our-commemorative-quilt/