Two weeks ago, we launched a great endeavor — a strategic planning project for the Georgia MGEV Program (you can read more about it here). You are participating in the first stage of listening, our online survey, and I am so thankful! Your comments and contributions are providing great insight.
If you haven't responded yet, please consider doing so. Not only are you giving essential feedback on the program that will shape it for years to come, you may also earn volunteer service hours from the comfort of home. Yes, the time you spend answering the survey questions may be recorded in MGLOG under the statewide project, "2020 Statewide Strategic Planning." The survey link will be sent again this week in a reminder email. If you do not receive it, feel free to contact your local agent or program coordinator or myself (This email address is being protected from spambots. You need JavaScript enabled to view it.). We'll send you a link to the survey.
Some of you may have contributions to make, but prefer to do so in a discussion session. In the interest of health and safety, we have planned two discussion sessions for MGEVs that will take place online using Zoom. A team of facilitators will lead us through the discussions. You may participate in the online discussions whether or not you participate in the survey. You may also record volunteer service hours for contributing to the discussions.
We will send the links and details for the online sessions ahead of time to those who register to participate. Use this link to register for the discussion session of your choice. Registration will close Tuesday, October 20. There are two sessions for MGEV discussions, on different week days and at different times. Choose the date and time that works best for you!
Tuesday, October 27, from 10 am – 12 pm
Thursday, November 4, from 2-4 pm
We will be sharing the results of the survey during a 2021 Thoughtful Thursday session. We'll also be sharing the complete strategic plan next summer (we'll be writing it during the early part of the year).
Thank you, again, for participating in this endeavor! We are all excited to consider what our volunteer program can be and do in the next 5 to 10 years!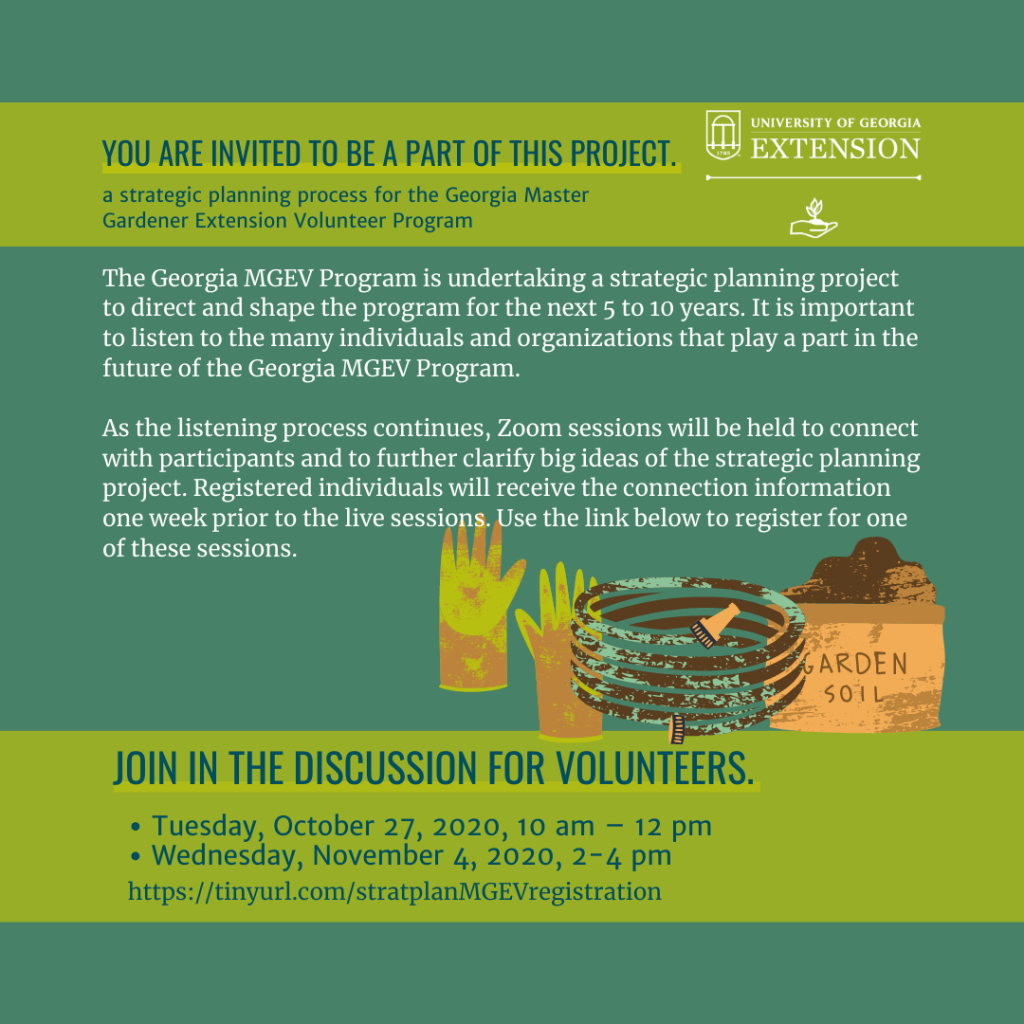 Read more https://site.extension.uga.edu/mgevp/2020/08/strategic-planning-project-underway/